Andrew and Governor Bush 2001 Article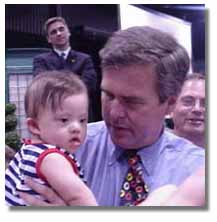 CAFE Conference
By Sherry Arteaga
How excited I was to find out that not only was I chosen to participate at the conference, but also I was going to be rooming with one of my best friends and supporters, Nancy Harris. For any of those who are unaware, she is the founder of PODS Angels (Parents of Down Syndrome Angels) support group.After a harrowing journey of car seats, play yards, strollers, coolers, luggage and children; we finally made it to Orlando. Whew!!!!!!!

Everyone was very excited about all the accomplishments by the Governor on behalf of individuals with disabilities. During Jeb Bush's speech it was mentioned that he signed a bill to protect individuals who use life-sustaining machines from having their power disconnected by FPL. By no means ever feel that our power as individuals do not count. Due to a major blitz on the appropriations committee with letter faxes and e-mail, not only did the Governor get the monies needed to satisfy the budget, but also received 20 million dollars above what he requested. We are told that the people who were on the Medicaid waiting list were taken care of by neediness. As more monies are available, more people with disabilities will be served.

The workshops were also a learning experience. Sometimes I was challenged to decide which ones to attend. You always have to choose which is best for you and what you need to learn about. Which I think is a lot more than what I know. Imagine having a youngster, fifteen months old, and thinking about trust funds and housing. We get so wrapped up in the here and now present, that before we know it our Angels, God willing, will be moving out on their own and going to their jobs and living fulfilling lives.

On a more personal level, I don't think I have ever been around so many persons with so many different disabilities. It is a sobering experience to say the least. You have to give kudos to those families whose family members are more medically challenged. I would imagine just as we see our Angels, they see their children, siblings, parents and friends for who they are. And to paraphrase the author Norman Kunc, know them for their diversity, not their disability

I would like to write just a few lines more about the exhibits at the Family CAF. There were many diverse companies there, offering services in many different areas. These contacts are especially important, not necessarily for that moment, but for reference materials you may need at a later date. It is always important to ìshop aroundî and visit all the vendors and collect all that they have to offer.

Well I have been accused of being long-winded and sometimes preachy, forgive me I just get such a rush when writing about one of my favorite subjects. I recommend everyone to visit the Family CAF website at familycafe.org and watch for the 2002 information. Send in your applications ASAP for registration, and if you need they have scholarship for hotel and respite care. I have a feeling they will need a bigger hotel next year. You canít keep a good thing quiet for long.
Sherry Blanco-Arteaga
DS Angel Mom and Advocate